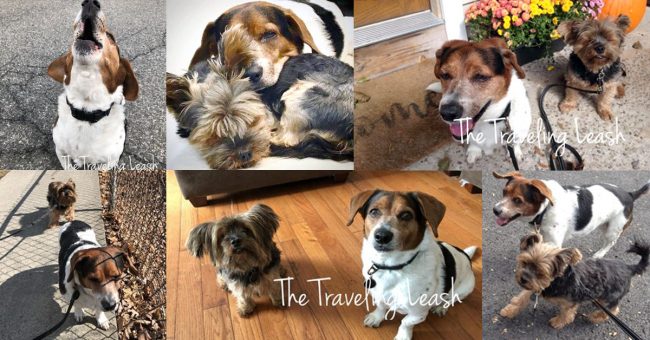 Milo and Bernie were surrendered to the Animal Care Centers of NYC in 2018 because their family "had no time" to take care of them. While little Bernie, a Yorkie, had a good chance of being adopted his best friend Milo, a beagle mix, was put on the "kill list" because he needed life-saving disc surgery.
Luckily, Town & Country K9 ResQ took this loving pair under its wings. Almost paralyzed, Milo was immediately sent to Guardian Veterinary Specialists where he underwent specialized surgery for a herniated disc in his back. The surgery was successful and the rescue group began searching for a home willing to take both dogs. That wasn't easy. Many people wanted to adopt Bernie without his best friend Milo.
And then along came Carla Mijlin and Shawn Lickun of Cornwall on Hudson who couldn't bear to think of these little boys being separated. They opened their hearts and homes to the dynamic duo. Milo and Bernie became part of The Traveling Leash family shortly after adoption, and we were thrilled to spend time with these precious boys.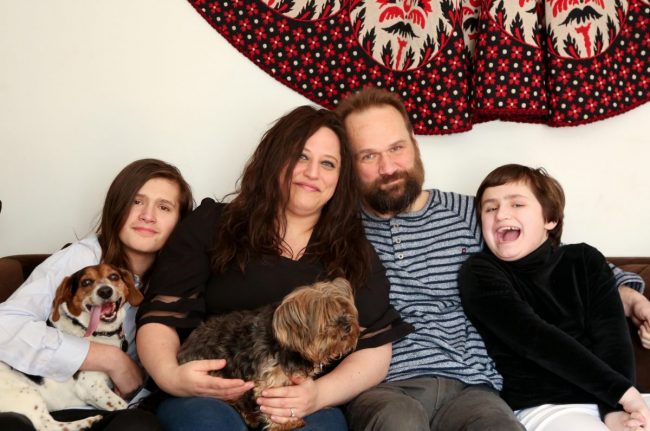 Milo and Bernie hanging out with their forever family.
"I have never been able to bear the plight of the rescue dog," Carla said. "Whether they lost the comfort and love of a home they knew by someone that loved them or whether they were abused or thrown away. I can't imagine, in my life, a lonelier or sadder space for anyone to ever have to be."
Milo and Bernie entered their new home just as Carla and Shawn were starting their own journey together.
"They have grown with us in love and in life… and taught us so many things," Carla said. "These little individuals are full of personality and joy and laughter and stubbornness and craziness and completely illogical behavior… kind of like us! We love them like crazy and are so, so, so happy to have them in our lives."
 The Traveling Leash Family Includes Many Rescue Dogs
Milo and Bernie are just two members of the Traveling Leash family who were rescued. Every day we walk dogs who are enjoying life with their adoptive families. They are wonderful dogs each with his or her unique personality and all deeply loved and cherished by their humans – and, of course, by their Traveling Leash walkers.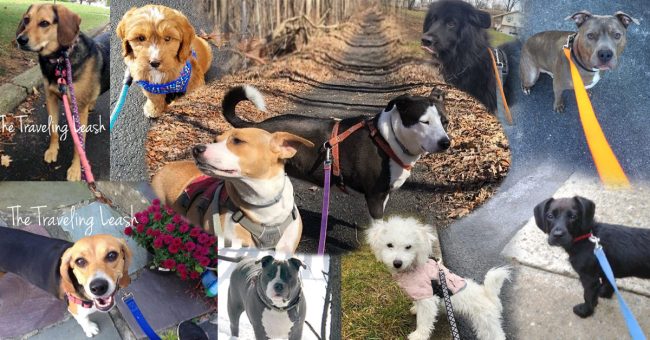 These are just some of the many rescued dogs in The Traveling Leash family.
All of these amazing dogs were cared for by shelters and rescues before going to their forever homes. Without these wonderful people working and volunteering to rescue and care for homeless animals, so many of us wouldn't be sharing our lives with such wonderful dogs.
Local Shelters and Rescues Need Our Help
The COVID-19 virus has impacted everyone including homeless animals and those caring for them. Shelters are closed to the public to comply with social distancing. Many are working with skeleton crews, fundraisers are canceled and donations are down due to patrons struggling with financial challenges. Local shelters and rescues need our help now more than ever.
Following is a list of area shelters and rescues and how we can help them as they continue working hard to save precious lives. In addition, The Petfinder Foundation offers tips on things we can do to help our local shelters cope with COVID-19.
Hudson Valley SPCA
The Hudson Valley SPCA is accepting online applications, which can be submitted via email. Once visiting restrictions are lifted approved applicants can visit the animals in person.
The shelter needs dog and cat food, pelleted cat litter (found at Tractor Supply) and cleaning supplies. Reach out to the shelter via Facebook or by phone for details on the type of food needed and to make arrangements for dropping off supplies.
Humane Society of Blooming Grove
The Humane Society of Blooming Grove needs donations of dry dog and kitty litter. The shelter tries to keep the dogs on one type of food for their digestive health. It can be ordered through smile.amazon.com or Chewy.com and delivered directly to the shelter. The AmazonSmile Foundation will donate 0.5% of the purchase price of eligible products to the shelter.
Humane Society of Walden
The Humane Society of Walden is accepting adoption, foster and volunteer applications online. The staff will follow up with approved applicants. Duffy's in Montgomery is asking for donations of highly-needed supplies for the shelter and has set up a drop-off box in its vestibule. Anyone uncomfortable with entering the building can call 845-769-7608 and a member of staff will come out to the parking lot to collect the donations.
Bleus Canine Rescue
Blues Canine Rescue is in need of foster homes and supplies everything needed to care for foster dogs. Adoptions are also still taking place with every precaution taken to keep volunteers and potential adopters safe.
Take Me Home Pet Rescue
Take Me Home Pet Rescue relies solely on fosters to care for dogs until they are adopted. The rescue provides all of the necessary supplies. The group can always use donations of food and supplies such as toys, training pads, crates, leashes, and harnesses. Reach out via Facebook or call to verify food brands.
Pets Alive Animal Sanctuary
Pets Alive Animal Sanctuary is conducting "zero contact" adoptions of dogs and cats. The staff conducts virtual meet and greets with potential adopters and the animals they are interested in adopting. If an application is approved, there is a "social distance handoff" between staff and adopters to keep everyone safe.
In-kind donations and monetary donations are down due to the pandemic.
"It runs us almost $15 a day to provide a single day of care for just one animal," said Pets Alive Executive Director Becky Tegze. "We average 200 animals in care so that equals $3,120 a day!  With a large brick and mortar facility it's way more than just food and water behind each of our animals. It's electricity, heat, staff, cleaning supplies, medications and the list goes on."
Monetary donations and pet sponsorships can be made via the website. Items from the sanctuary's wish list can be ordered and delivered via Amazon.
Shelters and Rescues Remind Pet Owners to Create a Pet Care Plan
The animal rescue community continues to remind pet owners to be prepared in case they get sick or are hospitalized and cannot take care of their animal companions. Tegze advises people to reach out now to a family member, friend, pet sitter or boarding facility to discuss pet care should the need arise.
The NYC Mayor's Office of Animal Welfare offers tips on how to prepare for a COVID-19 human health emergency if you have a pet.
As the number of people affected by COVID-19 continues to rise, RedRover, a nonprofit that helps people and animals in crisis, has launched a Relief Emergency Boarding Grant Program. This national program provides financial assistance for pet boarding while pet owners are hospitalized due to the COVID-19 virus. All applications must be submitted online.